Treating ageing skin that is oily and sensitive is no easy feat.
Finding non-irritating products that plump, smooth and firm the skin, as well as clear, calm and hydrate without leaving your skin greasy is quite a task.
Majority of skincare products formulated for sensitive skin cater to sensitive skin that is dry. And products designed to treat oily skin are often harsh and can actually aggravate the problem, particularly in those with sensitive skin.
No one product can achieve everything so we've put together a simple guide on how to build a bespoke skincare routine targeted to care for your oily, sensitive, adult skin.
1. Avoid Harsh Ingredients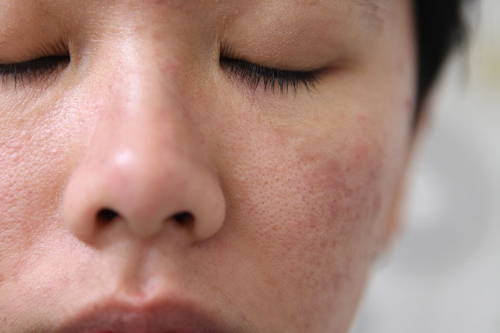 Assess your current skincare routine and get rid of emollient, thick and heavy creams and anything containing harsh ingredients such as denatured alcohol, sulfates and menthol.
Such ingredients can make your skin feel temporarily less oily, but in the long-term will only dry out your skin and exacerbate the problem.
Cleanse twice a day to avoid a build-up of oil and dead skin cells that can lead to clogged pores. Choose a gentle cleanser formulated for sensitive skin.
Our Calming Chamomile Skin Cleanser does a fantastic job at removing make-up, dirt and grime without disrupting the skin's protective barrier. Packed full of soothing ingredients, our face wash will leave your skin feeling clean without the dryness.
I have recently discovered the joy of the konjac sponge and let me tell you, there is no going back! If acids don't agree with your skin, you can opt for gentle, physical exfoliation using the konjac sponge.
The Kongac Sponge Co - £8.99 on Amazon.co.uk
It was originally created for the use on delicate baby skin during bath time. This little sponge is your secret to seriously smooth, glowing skin.
You can use it daily as part of your cleansing routine, with or without cleanser. It buffs your skin, gets rid of dead skin cell build up and is fantastic at removing make-up.
4. Use A Face Mask Once A Week
Get into a weekly face mask habit that can help you tackle blemishes, blackheads and even the skin tone.  
Clay-based formulas are perfect for oily skin and have the power to draw out excess oils and impurities. Unfortunately, many of them are not suitable for sensitive skin. As clay masks dry and crack on your face they draw moisture out of your skin, which can leads to irritation and dryness.
Our Hibiscus & Pomegranate Detoxifying Clay Mask has a creamy texture and is specifically formulated to not dry on the skin. It is enriched with a long list of botanical extracts and oils that nourish the skin, while Glycolic Acid and Kaolin Clay draw out impurities, blackheads and refine your complexion.
A good serum or moisturiser will help prevent your skin from looking greasy and encourage a healthy, dewy skin that stays hydrated throughout the day.
Our 5in1 Rejuvenating Facial Serum is a lightweight, hydrating serum, which contains Stay-C, a form of Vitamin C particularly effective at preventing and targeting the cause of breakouts.
Studies have found it to be as effective as 5% Benzoyl Peroxide at treating mild acne. With the added benefit of hyaluronic acid and a complex of three age-defying peptides, this is the perfect product to treat ageing, sensitive oily skin.
6. Use Powder Based Make-Up Products

 Avoid creamy, liquid foundations that oxidise easily and separate on your skin as the days goes on. Choose a mineral powder foundation for a lightweight, natural finish that won't clog your pores or contribute to your oily skin.
Oil Blotting Tissues - £8.99 Amazon.co.uk
If you're yet to discover blotting sheets, your life is about to change. These little absorbent sheets can be used to blot excess oils off your face without affecting your make-up. Use them whenever and wherever you need for a perfectly matte complexion.

Comment below with comments or questions.
Alicia x